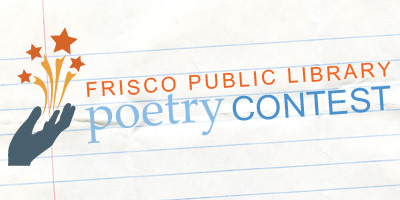 The Frisco Public Library is hosting a poetry contest. Please see Mrs. Lambert if you need a form. We have some printed off and ready for you to take.
You can also return your form to Mrs. Lambert.
Students in grades 1-12 are invited to enter the contest by submitting original poems on any subject, written in any style, and submitted on any paper by March 16.
Poetry may be submitted two ways:
by mail to Frisco Public Library, Attn: Poetry Contest, 6101 Frisco Square Blvd, Frisco, TX 75034
in person to the library's 2nd floor Ask Us desk.
All submissions must include an entry form (click here for form – requires Microsoft Word.)
The deadline for entry is March 16, 2012.
Winning entries to be published in a poetry anthology in May 2012.