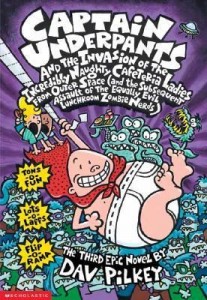 Captain Underpants and the invasion of the incredibly naughty cafeteria ladies from outer space (and the subsequent assault of the equally evil lunchroom zombie nerds) : the third epic novel by Dav Pilkey.
Call Number: F PIL
George and Harold tricked the cafeteria ladies by making them think it was the principals birthday so the lunch ladies wanted to be fired.So three aliens from outer space got hired without even being known! So they made everyone drink something to make them turn into zombie nerds. so captain underpants arrived and defeated the aliens and made the zombie nerds turn into human again.
My favorite part was when Captain Underpants defeated the aliens.
If you like Captain Underpants, you'll like this book!
This book's genre is realistic fiction and fantasy. This book's story line is funny. This book left me feeling giggly. On a scale of 1-5 I give this book a 4.
This review was written and submitted by Wiley.