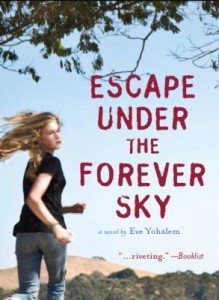 Escape Under the Forever Sky : A Novel by Eve Yohalem
CALL NUMBER: F YOH
A girl that gets kidnapped and is forced to do stuff she dose not want to do. Her parents try to find her but they can't. Will they find her or will she stay there forever?
My favorite part is when the man called lucy and said every thing is alright but she did not trust him so she ran into the forest and she was all alone.
If you like action books, you'll like this book!
This book's genre is realistic fiction. This book's story line is action oriented, funny. This book left me feeling cheerful, grateful, inspired, motivated, touched. On a scale of 1-5, I give this book a 4.
This review was written and submitted by 5th grader Alexandra.