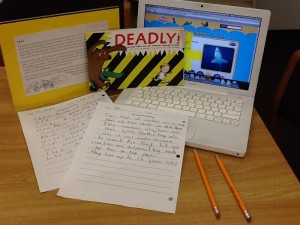 This week at the RBE Library, our 2nd graders came to the library as they begin learning about Expository Writing. One of the ways that we teach students about writing, is by modeling good writing by reading texts of that genre of writing. So, I recently reviewed an AMAZING book for School Library Journal called Deadly: The Truth About the Most Dangerous Creatures on Earth by Nicola Davies and Illustrated by Neal Layton.
After reading this book, I just knew I couldn't wait very long before I shared it with students! This book is an excellent example of expository writing! So, I read several excerpts of the book to the students, and then they got to pick one of the 5 animals in the book to learn more about on PebbleGo Animals. Then, the students had the opportunity to write a short expository paragraph about their animal using what they learned.
See the pictures below to see how much fun we had with this awesome learning opportunity!