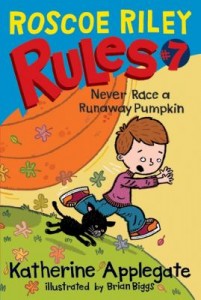 Roscoe Riley Rules: Never Race a Runaway Pumpkin by Katherine Applegate and illustrated by Brian Biggs
CALL NUMBER: F APP
If Roscoe guesses the weight of a giant pumpkin, he'll be a winner! Hazel gets a black cat. So then the black cat crossed the line with Roscoe.
My favorite part of the book was when the black cat jumped out of the pumpkin.
If you like CRAZY, you'll like this book!
This book's genre is fantasy. This book's story line is funny. This book left me feeling crazy. On a scale of 1-5, I  give this book a 5!
This review was written and submitted by 2nd grader Varsha.