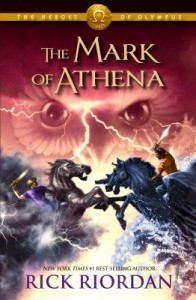 The Mark of Athena by Rick Riordan
CALL NUMBER: F RIO
It is about uniting the old rift between greek and romans as well as saving the rome from total mass destruction.
My favorite part of the book was the beginning.
If you like funny and epic adventures you'll definitely like this book!
This book's genre is fantasy. This book's story line is funny and action oriented. This book left me feeling curious. On a scale of 1-5, I give this book a 5!
This review was written and submitted by 4th grader Benjamin.