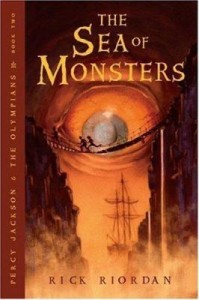 The Sea of Monsters by Rick Riordan
CALL NUMBER: F RIO
Percy Jackson plays a game of dodgeball and then Annabeth brings bad news that the magical borders of camp Half Blood have been poisoned by a mysterious enemy.If they dont find a cure camp half blood will be destroyed.
My favorite part was when percy fins out the cyclops Tyson was his brother.
If you like books with action youll like this book.
The genre of this book is fantasy. This book's story line is action oriented, funny. This book left me feeling cheerful, shocked, surprised, Like i have to read the hole series! On a scale of 1-5, I give this book a 5!
This review was written and submitted by 3rd grader Emad.