This week at the RBE Library, my Teacher Librarian friend Shawna Ford of the Curtis Elementary Media Center connected me with the Zoo Atlanta folks on Google Plus.
What a cool connection this was for our library and our students!
The Zoo Atlanta is the zoo where the gorilla Ivan went and lived out his days. SO, I knew of the zoo, but I didn't know that they put on these great Google Hangouts. After talking with Shawna about getting in the Google Hangout, I knew that our students would love this!
So what is a Google Hangout anyway? Google Hangout is a video conference tool that allows several people or groups to connect online in a virtual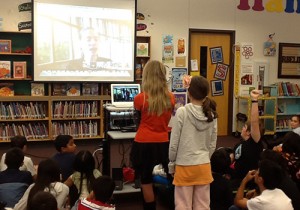 space. Google Hangout also has the added feature of being able to broadcast online and simultaneously record the Hangout to YouTube. So cool!
This virtual field trip would be to show the kids 3 types of creepy creatures and discuss some of the common myths and misconceptions associated with those creatures. The zoologists that work with the creatures were on hand to discuss them and answer the students' questions about them. The students met Quincy the Eurasian eagle owl, Maize the corn snake and a special insect guest star, a tarantula.
You can see all the details here and you can watch the whole virtual field trip here. Frisco ISD also posted about our virtual field trip here.
The students and teachers absolutely loved this experience and we will definitely be doing more of these virtual field trips and Google Hangouts!