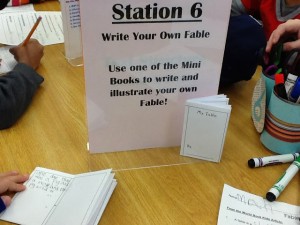 This week at the RBE Library, our 2nd graders were learning all about Fables. So of course they came to the library for some super fun learning opportunities too!
In the library, the student worked together to come up with a moral or lesson that the fables were trying to teach the reader. They also used the World Book Online to learn about what a fable is. The Fables Station Signs and the Fables Station Activity Sheet.
After the students learned about what a Fable is and wrote down their moral or lesson for the 3 we read, then they got to write their own fable! I copied and folded little Mini Books before they came. They picked up a Fable Mini Book and a Fable Mini Book Rubric and wrote and illustrated their own Fable. This was really fun for the kids. Hearing their Fables was so awesome! You could really tell that they understood what a Fable was by their ability to write their own!
The students read 3 Fables before they came to the library:
The Hare and the Tortoise : A Fable from Aesop retold & illustrated by Helen Ward
The Ant and the Grasshopper retold and illustrated by Amy Lowry Poole
Donkey Trouble by Ed Young
 Fables in the Library Pics