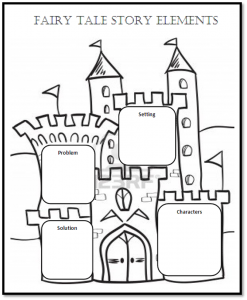 This week at the RBE Library, both our Kindergartners and 1st graders were reading and learning about the structure of Fairy Tales and basic story elements.
In the library this week I read Beauty and the Beast retold and illustrated by Jan Brett to kindergarten and The Three Little Gators by Helen Ketteman and illustrated by Will Terry.
After the reading of each story, we talked about the various elements of a story. We then filled in this Fairy Tales Activity Page with the various elements from each book.
For 1st grade, we also talked about Fractured Fairy Tales and how those can be the same in some ways and different in other ways, depending on the story.
Fairy tales are always fun, and these were fun lessons!