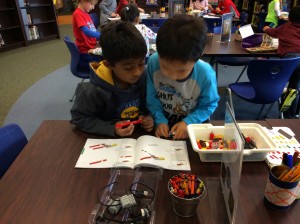 This week at the McSpedden Library our 1st graders came to the library to explore some of our #MakerSpace kits!
The students were studying inventions and learning about what it takes to invent something. The teachers and I thought this would be an exciting opportunity for the kids to get to create and build something and learn the importance of having a plan.
The kids partnered up and they either built something with some of our Lego We Do Kits or they created something with our Deluxe Little Bits Kits.
The kids and teachers had so much fun and it was awesome to get to connect some of the resources I got through my Canvas Grant!
Pics of the 1st Grade Invention Lab