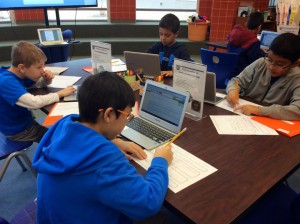 Last week at the McSpedden Library our 4th graders came to the library to do research. The teachers and I collaborated as they prepared to teach research writing and the research process.
Here are the TEKS (Texas Essential Knowledge and Skills) Standards we used to guide us in our planning:
(23)  Research/Research Plan. Students ask open-ended research questions and develop a plan for answering them. Students are expected to:
(A)  generate research topics from personal interests or by brainstorming with others, narrow to one topic, and formulate open-ended questions about the major research topic; and
(B)  generate a research plan for gathering relevant information (e.g., surveys, interviews, encyclopedias) about the major research question.
(24)  Research/Gathering Sources. Students determine, locate, and explore the full range of relevant sources addressing a research question and systematically record the information they gather. Students are expected to:
(A)  follow the research plan to collect information from multiple sources of information both oral and written, including:
(i)  student-initiated surveys, on-site inspections, and interviews;
(ii)  data from experts, reference texts, and online searches; and
(iii)  visual sources of information (e.g., maps, timelines, graphs) where appropriate;
(B)  use skimming and scanning techniques to identify data by looking at text features (e.g., bold print, italics);
(C)  take simple notes and sort evidence into provided categories or an organizer;
(D)  identify the author, title, publisher, and publication year of sources; and
(E)  differentiate between paraphrasing and plagiarism and identify the importance of citing valid and reliable sources.
(25)  Research/Synthesizing Information. Students clarify research questions and evaluate and synthesize collected information. Students are expected to improve the focus of research as a result of consulting expert sources (e.g., reference librarians and local experts on the topic).
(26)  Research/Organizing and Presenting Ideas. Students organize and present their ideas and information according to the purpose of the research and their audience. Students are expected to draw conclusions through a brief written explanation and create a works-cited page from notes, including the author, title, publisher, and publication year for each source used.
I was thrilled to get to be  apart of this learning process and to get to teach the kids about different online sources. One of the things we focused on was thinking about sources based on how we will use the information we gather. We talked about how when we are responsible for presenting our learning to our classmates and teacher, we have to use the most reliable, most accurate, and most current sources. Using Google is fine to do for most information purposes, but when it comes to academic research, we need to turn to subscription databases like the World Book Online and EBSCO.
To narrow the research focus, we used this great series of books about inventions!
Kids love learning about inventions, so we narrowed the topic list to about 40 different inventions. The students read a short expository piece about inventions that they were interested in. Then, they chose their invention and used this Student Topic and Questions Page to come up with open ended questions about their invention. After that, we had on our lesson about sources. The students used both The World Book Online and EBSCO to find sources that answered their questions. Our students also learned about citations and how/ where to find the proper MLA citations in these two sources. They recorded their answers and citations on this Source Sheet.
We checked out 2 carts of Chromebooks from our technology folks, so the students did all their research online using Chromebooks. The students were so engaged and it was so much fun facilitating their learning during this research process!
Pics of 4th Grade Invention Research