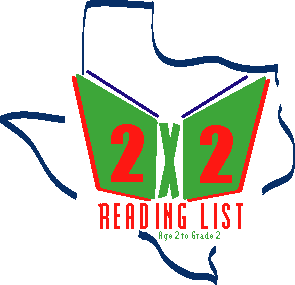 This week at the McSpedden Library, all of our Kinder, 1st, and 2nd grade students are getting an introduction to the Texas 2×2 Reading Program we are hosting here at McSpedden!
Any Kinder, 1st, or 2nd grade student can choose to participate in this reading challenge. All the information about the books and the challenge can be found on the Texas 2×2 Books 2014-2015 Page on this site. There are 20 books on the Texas 2×2 Reading List, and the students who read all 20 of the Texas 2×2 books and return their 2×2 Coloring Sheet to Mrs. Lambert by Spring Break will receive the following recognition:
Reading Achievement Certificate
Certificate will be given at Sonny Morning Live in March
Student's Picture on the Texas 2×2 page on the Library Website
Student will get to eat lunch in the library 1 time in March!
All your child has to do to participate in read all 20 of the 2×2 books, color them on the 2×2 Coloring Sheet, and return the sheet to me before Spring Break. I have a set of the 2×2 books here in the library that your child can check out, and I also have a set here in the library that stay here. If you would like to come into the library before or after school one day and read any of the 2×2 books, they will be here!
This a great opportunity for your child to get excited about reading and read some great picture books! If you have any questions, please let me know and I will be happy to help.
It's easy to join in the fun – just read or listen to all 20 books reading list at home, at school, or in the library and keep track of your reading by completing a coloring boot. When you finish, return your completed boot to the library and have your photo added to the wall of fame.