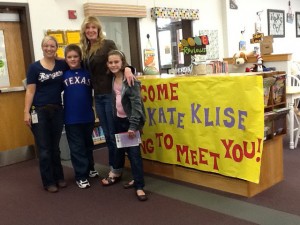 On Thursday, October 27th, Kate Klise came to RBE to visit with students. She presented to students and engaged them in her presentation about writing. She talked to students about her writing process and how authors must write a lot, be quiet when they write, and write for long periods of time.
She also talked to students about the necessary aspects of writing: one, one, one.
One Character
One Problem
One Journey
Kate Klise was engaging and wonderful, and students loved her presentation! I think she inspired many of our students to pursue creative writing. Students who bought a book also had the opportunity to meet the author and get their books signed. How cool!
Check out our photos from her presentation and author signing!
As part of our preperations for Kate Klise coming, we read several of her books in the library and in classrooms. Plus, students have been checking out her books like mad. In response to the books we read in the library, students created original artwork that I compiled into two different ebooks.
Check out the videos below to see the ebooks!

Students, if you enjoyed Kate Klise, leave a comment below syaing what you liked most about her presentation or about your favorite book of hers!