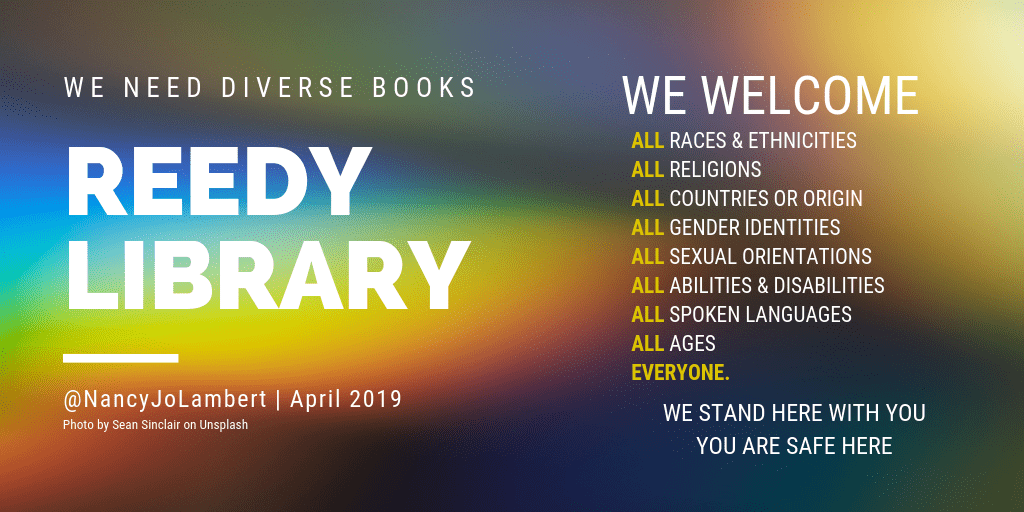 One of my professional goals during the 2018-2019 school year was to read more books. I know, for a librarian that sounds weird, but here's some real talk…
I'm going to take you back to a seven year old me, who was moving from a trailer park in Norman, Oklahoma to a house in Kansas City, Missouri. The only home I knew my whole life was that trailer. We had lived in the floodplain of the Canadian River and survived a flood and a fire there, so when we moved to a trailer park, I thought that was a real step up in the world! Now we were moving to another state and a real house, and I remember being so excited about that! My new elementary school was a tiny school in the country, and upon starting that school it was determined that I was extremely behind in reading.
I was placed in a special reading class. I honestly can't remember how often I went to that class, but I do know that when I went to that class, the rest of my class got to watch Reading Rainbow. I will always remember when the teacher started Reading Rainbow, that was my cue to leave and go to my special reading class. Because of that experience, among others, reading was not something I enjoyed doing for a long time. It was not something I thought I was good at, nor did anyone tell me as I was good at reading. I distinctly remember my friends talking about The Secret Garden on the playground, and what an amazing book it was. On a visit to my school library, I asked the librarian if I could check out The Secret Garden, but she told me no. See, my special reading class was in the library, so she knew I was not a good reader and therefore would not allow me to checkout that book. Well, one day the librarian was not there, and I checked out The Secret Garden. That book will always have a special place in my reading life because that was the first book where I "saw the movie in my mind." As I moved through elementary school, I moved up in the color groups of the Basal readers we used in class and steadily got better at reading. By the time I got to 7th grade, I was reading on a college level. Along the way, I also learned to love reading. As a former middle school English Language Arts and Reading teacher, and a long time school librarian, I know the value of allowing kids to read, and read what they want. I will never be the librarian or teacher that tells a kid they can't read something.
As an adult, I have gone through reading slumps, and last school year I went through a big one. Being the goal oriented person that I am, I decided to challenge myself to get back into reading. However, I didn't want to just read the fantasy and dystopian that I had become burnt out on. Over the last couple of years, I had become acutely aware of the lack of diverse voices in the young adult and children's literary canon. I also came to the realization that my own reading choices had not been very diverse. This year I made intentional choices to seek out a more diverse selection of books and authors who represented or told the stories of marginalized voices. When I know better, I do better.
I have always been a champion of access to information and someone who speaks up against censorship in our profession, but I knew I needed to do more. As a school librarian, I want to make sure I am making it known to my students and campus staff, that the Reedy Library is a place where they can access diverse books by providing the windows, mirrors, and sliding glass doors to my students through literature.
On the shelf below, you can see all the books that I read this school year. Considering the fact that I am a working school librarian, a full-time mom, committed volunteer leader for multiple professional organizations, campus UIL Academic Coordinator and NHS Co-Adviser, for me, that is a pretty substantial number of books. Many of those I read on audio during my workouts, drives, and getting ready in the morning times.
These books changed how I think about life and other people. I read books by culturally diverse authors, books with characters of different sexual orientations, books about real people telling their story, and books with characters dealing with mental health issues. I learned about other cultures through the lens of someone from that culture and about how everyone, no matter the religion, often struggles with their religious life. I saw myself in many of these people and characters. I shed tears for real and imagined people I met in these books because their stories touched me and opened up my mind and heart. I have committed to being more open about my life journey and who I am with my students and staff. I also know that I will be making very intentional choices about the books being added to the collection in our library.
I have joined the @ProjectLitComm and am going to start a chapter at Reedy next year. I have also been using resources from We Need Diverse Books. I am referencing the ALA LGBTQ+Resource Guide. There are more and more resources being added all the time to help us all navigate these waters and do the very best we can for our students. One thing I've done this year to be intentional about inclusivity was to create the sign below. I hung two of them on the entrance doors to the library. I created the sign originally in Canva, but created this version in Google Drawings for my staff so they could make one for their classroom.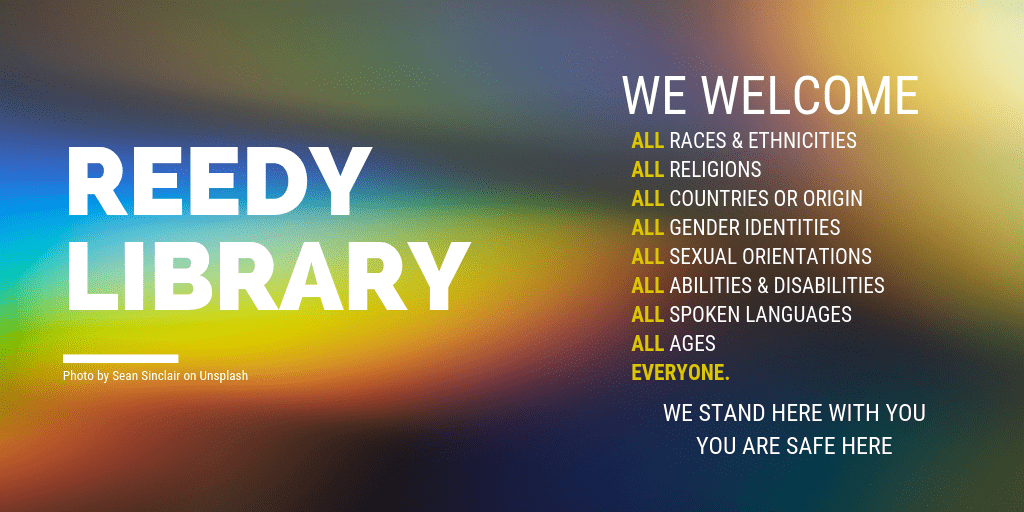 I know that I am changed as a reader. I have taken a journey this year that hasn't ended, and has directed me to a new path. I will not be afraid or ashamed of who I am or where I come from. I have seen the value in the stories of my fellow humans when seen from their diverse perspectives. As I reflect on my own journey this year, I know I need to use my important role as a school librarian to help lift up these powerful and important voices because reading does make a difference.