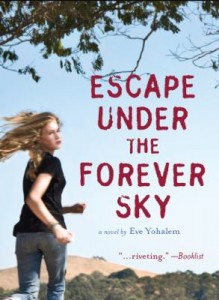 Escape Under the Forever Sky : A Novel  by Eve Yohalem
CALL NUMBER: F YOH
A girl that is kidnapped and has to survive. While on her escape she comes to a pack of lions. Will they eat her alive or will she live?
My favorite part of the book is when she is escaping where she has been taken captive.
If you like ADVENTUROUS books, you'll like this one.
This book's genre is realistic fiction, historical fiction, biogrpahy. This book's story line is action oriented. This book left me feeling curious, energized, grateful, hopeful, shocked, surprised. On a scale of 1-5, I give this book a 5!
This review was written and submitted by 5th grader Jagger.