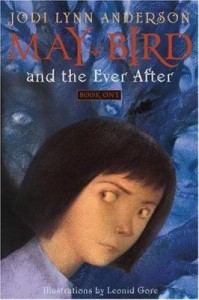 May Bird and the Ever After by Jodi Lynn Anderson with illustrations by Leonid Gore
CALL NUMBER: F AND
There is a girl who has a house near the woods.Then a monster comes to her house! She tries to figure out what is going on. Then she goes to the woods and she sees a pond so she was leaning over then all of a sudden she gets pulled in the pond by a monster!So then she woke up and she is in a completely different world!
My favorite part was when she gets pulled in to the pond and how the author describes it!
if you like mystery, fantasy then you will love this book!
This book's genre is mystery, fantasy. This book's story line is action oriented. This book left me feeling curious. On a scale of 1-5, I give this book a 5!
This review was written and submitted by 4th grader Donata.