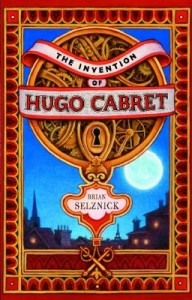 The Invention of Hugo Cabret : A Novel in Words and Pictures by Brian Selznick
CALL NUMBER: F SEL
It was about a boy and a mechanical man . To Hugo the mechanical man was very speacail because it reminded him of his father wich had died from a fire and his dad found it before the fire . Hugo meets this girl and her name is Isabelle and they hang out togher and Isabelle's godfather and godmother adopted Hugo.
My favorite part was when Hugo gets caught stealing milk and pashres it made me laugh.
If you like books with lots of words and lots of pictures you will love this book
This book's genre is realistic fiction. This book's story line is sad. This book left me feeling sad. On a scale of 1-5, I give this book a 3.
This review was written and submitted by 4th grader Melissa.