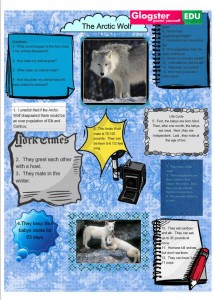 During January and February, the 3rd graders at RBE went through the research process while they studied the Arctic Regions.
Each student chose an arctic animal to study, developed questions about that animal, its habitat, and adaptations.
They used online and print resources, such as books, the World Book Online, EBSCO, and other websites to gather the answers to their questions.
Then, the students used the online Glogster tool to create an online poster of all their information!
The kids not only had fun using all the cool online tools and making their Glogsters, they also learned so much!
See of the 3rd grade Glogsters on the teachers webpages!