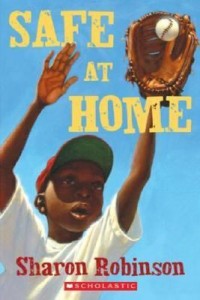 Safe at Home by Sharon Robinson
CALL NUMBER: F ROB
This book is about a boy and he is at a baseball place. He meets lots of new friends. At the place he finds lots of new things about his dad, and at first he is bad at baseball . But after he is good.
My favorite part about the book is when well when he finds out about his dad.
If you like this book I bet you will like all the other books the author wrote.
This book's genre is realistic fiction. This book's story line is fun. This book left me feeling cheerful. On a scale of 1-5, I give this book a 5!
This book review was written and submitted by 3rd grader Kay Shin.