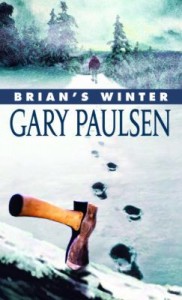 Brian's Winter by Gary Paulsen
CALL NUMBER: F PAU
Brian is stranded on an island in the middle of nowhere. His plane crashed there and now he has to live on an island by himself. Will he survive, or will he die?
My favorite part of the book was when every morning a skunk would come and raise its tail up at Brian and then he would toss a piece of meat to it and then it would lower its tail. And the skunk would do it every day!
If you like adventurous books, you'll like this one.
This book's genre is informational, realistic fiction. This book's story line is action oriented. This book left me feeling cheerful, curious, energized, grateful, shocked, surprised. On a scale of 1-5, I give this book a 4.
This review was written and submitted by 5th grader Jagger.