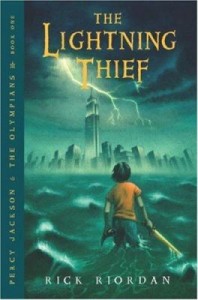 The Lightning Thief  by Rick Riordan
CALL NUMBER: F RIO
In this thrilling first book, the main character, Percy Jackson, realizes he is a demigod, a child of the Greek gods. When he found out he was framed for stealing Zeus' master bolt, he goes on a dangerous quest to prove he's innocent. With the help of his new friends, Annabeth and Grover, nothing will stand by their way, not even blood-thirsty monsters.
My favorite part was when Percy slayed the head of Medusa.
If you like non-stop action, you'll like this book!
This book's genre is fantasy. This book's story line is action oriented, funny. This book left me feeling curious, energized, shocked, surprised. On a scale of 1-5, I give this book a 5!
This review was written and submitted by 5th grader Megan.