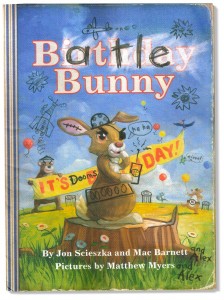 Oh my goodness readers! I am so excited to write this blog post about a new book called Battle Bunny by Jon Scieszka and Mac Barnett with pictures by Matthew Myers.
Where to start with this amazing new book?
What appears to be a lovely picture book about a precious bunny who is celebrating his special birthday, is actually an action packed adventure of a full on action hero bunny! I know what you are thinking. An action hero bunny? Think the Easter Bunny in Rise of the Guardians when he was a young whipper snapper!
All throughout the book, 10 year old Alex highjacks this serene and happy tale by writing over the typeface and altering the pictures with what appears to be a black crayon or pencil? He rewrites the words to show his version of the story that is action packed and full of hare raising shenanigans!
I know that young readers will thoroughly enjoy this brazen rewrite and boldly illustrated new picture book! The laughs and fun will be had over and over again!
The first 18 RBE Library Readers to comment on this post about how excited you are to read the book will get a Battle Bunny pencil!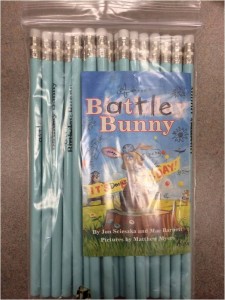 Watch the Battle Bunny Book Trailer