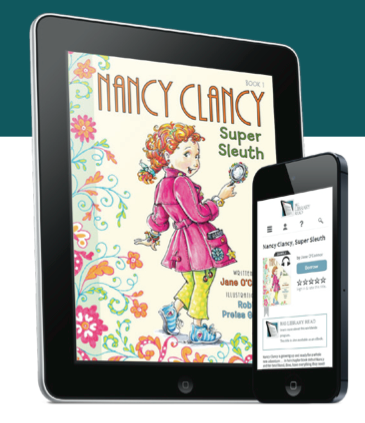 Starting Monday, September 16th, the RBE Library in conjunction with Overdrive will, be hosting an online book club for 2 weeks.
On Monday, September 16th, all RBE students can download the Nancy Clancy Super Sleuth book. Unlike other Overdrive books, this book will be available in unlimited quantities to Frisco ISD students from September 16th-September 30th.
Since anyone in Frisco ISD can download this book, I am going to host the RBE Library's first online book club! That's right! Our September Book Club will be entirely online!
Once those students who choose to participate download the book, they can participate in our book club, right here on the RBE Library Website!
How It Works:
Those who want to participate need to download the ebook or audio book from Overdrive.
I will post 3 posts for our online book club, This one, another on September 23rd, and the last on September 30th. By Monday, September 23rd, those who are participating will try to read to a halfway point in the book (I will post the halfway point here once I get the book downloaded myself) so we can talk about the first half of the book. On Monday, September 30th, I will ask that everyone participating finish the book or be almost finished so we can talk about the 2nd half of the book and the end.
Book Club Meeting #1
Our first meeting will take place on this post!
Students, teachers, and parents can all participate.
You participate by leaving comments on this post.
You can also reply and respond to others comments too!
On this post, we will make predictions about what we think the book is about, what we think might happen, what Nancy Clancy might do in the book, or anything about the book based on the summary and cover.
Summary:
Sassy Fancy Nancy is now a detective. When one of her classmate's most special possessions disappears from school, it's up to Nancy to save the day. With the help of her friend Bree, she follows the clues to an unexpected source.