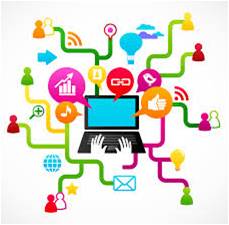 This week at the RBE Library, our 5th grade students are coming to learn more about Media Literacy.
I was so glad to see these literacy skills added to the TEKS! There is so much more to literacy these days than paper and books. Our students are challenged every day with content from so many sources that stretch their literacy skills.
In this lesson we focused on the 5th Grade Media Literacy TEKS and our district I CAN statements. Both of these are listed in the Google Presentation below.
Students will come to the library with their Reader's Workshop Reader's Respnse Journal. Once in the library, they will get a Media Literacy Reading Response notes sheet to go into their journal.
With a partner, they will view, read, and interact with the Google Presentation below. As they go through the presentation, they will record their responses on their Media Literacy Reading Response.
After they work together to complete the Reading Response, they will then separate to answer questions for the 5th Grade Media Literacy Quiz for their teacher below.
After students take the quiz, I will grade the quizzes using Flubaroo. Flubaroo is a Script that you can add to your Google Drive that will grade Google Forms for you. It was made for teachers! Here is a short video demo if you want to see it in action!  If you haven't used this yet, you totally should!
 Google Presentation For Students
Quiz Links By Class
 Pics of 5th Graders