This year at the McSpedden Library, I have set forth 4 goals. Now these can also be called guide posts, but ultimately these are the 4 things that will guide and propel me in everything we do here in the McSpedden Library. I think it is so important to know what our end game is when it comes to what happens in the library.
I wrote these goals or guiding statements so that everyone that comes to the McSpedden Library will know what is guiding us in all that we go! These statements should answer these questions: What is it that I am expected to do as your teacher librarian? What is it that teachers and students can expect when they come to the library? How will what we do here in the library impact student achievement?
I was inspired to write these goals by Andy Plemmons and his blog post Library Orientation: Starting the Year with Failure. I am really internalizing these goals and taking them with me in EVERYTHING we do here in the McSpedden Library!
McSpedden Readers, after you read this and hear me talk about these goals in your 1st Library Visits, leave a comment below and let me know something you would like to see us do in the library that would help us achieve one or more of these goals.
The first 12 students that comment will get to choose something from our McSwaggen (McSpedden Reader Swag) basket!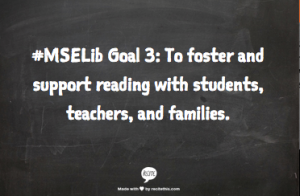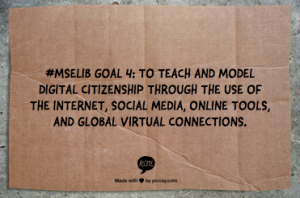 #MSELib Goals by Nancy Jo Lambert is licensed under a Creative Commons Attribution 4.0 International License.
Based on a work at http://barrowmediacenter.com/2014/08/26/library-orientation-starting-the-year-with-failure/.