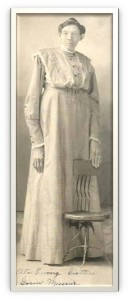 This week at the RBE Library, students in the 4th & 5th grades will get to learn about Ella Kate Ewing. We will read Stand Straight Ella Kate by Kate & M. Sarah Klise. Since Kate Klise is visiting us in a couple of weeks, we want to be prepared by having read some of her books!
After we read the book, students will get to explore factual information about this tall woman. They will get to explore stations and see real life examples of her size and use measuring tapes to see how measurements on paper transfer to real life. Students will read about her from a New York Times article from 1897. They will get to see real photographs of her and read about her life. They will also get to read her obituary.  These interactive stations and Kate Klise's book should give a pretty clear picture of this amazing woman's life!
After students visit the stations, they will have the opportunity to leave a comment on the website about what they think the message of this book is. What would Ella Kate want us to understand about  her life and pass on to others?