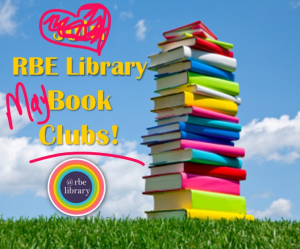 This month at the RBE Library, we finished off the year strong with 3 book clubs!
When I do book clubs, I introduce the books at our weekly assembly on Monday, adn then immediately I give interest forms to the teachers. The students have to return the forms to me in the library by Wednesday. The Thursday I pass out the commitment forms to the 6 lucky participants from each grade level. This kids then come to the library on Friday for our first meeting. We read the first chapter out loud and make predictions and talk about what we think might happen.
They read to a halfway point before the next Friday and I give them Post Its to mark the parts they have questions about, that liked and want to talk about, or parts they want me to read aloud to the group.
We meet again on a third Friday to talk about the ending of the book and what we thought about the book overall.
For our May Book Clubs:



A cool thing we did this time that was different was that during our last meeting, I tweeted to the authors some of the questions our RBE Readers had! Thank you so much to Janet Tashjian, Adam Gidwitz, and Michael Buckley for tweeting back to us! The students were sooooo excited to hear from you!
Just know authors, we love your books!
Here are some of the things that the authors tweeted back: