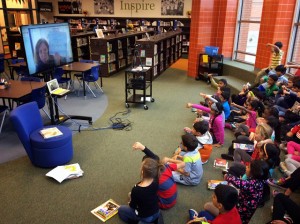 This year, the McSpedden Library celebrated World Read Aloud Day over the course of the week of March 3rd-6th. We celebrated by having all the classes come to the library and get to Skype. We had some inclement weather on Thursday March 5th, so not all of classes got to Skype unfortunately. We also ran into the problem of bad weather with some of our Skype partners.
We carried on though, and we were able to Skype with several classes. In some cases we had classes or teachers or other librarians read aloud to us, and in some cases I read aloud to the groups we Skyped with. My favorite book this year for World Read Aloud Day was The Book With No Pictures by B.J. Novak. I liked to call it a dramatic reading, but mostly it just made the kiddos laugh!
One of my favorite Skype visits was with the amazing Corey Rosen Schwartz who wrote The Three Ninja Pigs, Goldi Rocks and the Three Bears, and Ninja Red Riding Hood. Corey is a friend of mine, and she always does an amazing job of engaging the kids in sharing with them about what it is like being an author! She Skyped with 2 of our 2nd grade classes, and I am so thankful to her for her Skype visit. We have all of her books in our library, so students can check the out anytime!
It was a wonderful week of reading and celebrating! Below you will see pictures of our week and a Google Map marked with all the places we were able to Skype with.
#WRAD 2015 Pics from the #MSELib