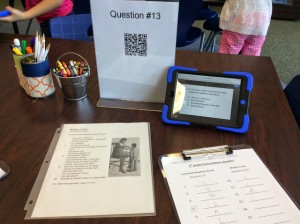 Last week at the McSpedden Library, our 3rd graders came to the library to do some poetry analysis. I collaborated with the 3rd grade teachers, and I pulled 2 poems addressing the skills they were teaching in their classrooms that week. I used released Reading STAAR tests to help me create questions for the poems.
The 2 poems I used were "A Character Pleads for His Life" from Bookspeak! : Poems About Books by Laura Purdie Salas and illustrated by Josée Bisaillon and "Mother To Son" from Langston Hughes edited by David Roessel & Arnold Rampersad and illustrated by Benny Andrews.
I created an image for each question and I attached it to a QR Code. I then placed the QR Codes in order on the tables. Each question had a copy of the poem in front of for the students to reference as they answered the questions. I checked out our 2 iPad carts from technology so each student could use their own iPad to go around and answer the questions on this 3rd Grade Poetry Stations Answers.
Here are the questions I used: A Character Pleads for His Life Questions and Mother To Son Questions.
Student Pics of the Activity