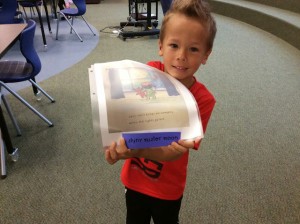 This week at the McSpedden Library, our Kindergarten and 1st grade students came to the library for their regular check in and checkout, but also for Poetry! I love poetry! I love reading poetry and writing poetry, so I was excited to get to share poetry with our youngest students.
I read to them "I Made This Morning" from What a Day It Was at School! : Poems  by Jack Prelutsky and pictures by Doug Cushman. Then I sent them to experiment with poems at 6 different poetry stations.
I had Outside the Box by Karma Wilson at one station with short poems they could copy on half sheets of Poem In Your Pocket pages. They could also write their own poem. I had Messing Around On The Monkey Bars and Other School Poems for Two Voices by Betsy Franco and illustrated by Jessie Hartland out for partners to read together. I had some other poetry books spread out on a table for the kids to read and explore. I had I Haiku You by Betsy Snyder out with a few of the poems printed out with a line from the poem blanked out. I then had the missing lines on little strips for the kids to place on the correct poem. I had a jumble of word cards (some blank) for the kids to assemble into poems of their own. They could write on the blank ones or leave them blank and fill in any word there. I also had Hamsters, Shells, and Spelling Bees : School Poems edited by Lee Bennett Hopkins and pictures by Sachiko Yoshikawa out with a poem called "Library" all cut into line strips. The kids then used the image to try and order the lines from the poem.
Pics of Students at the Stations