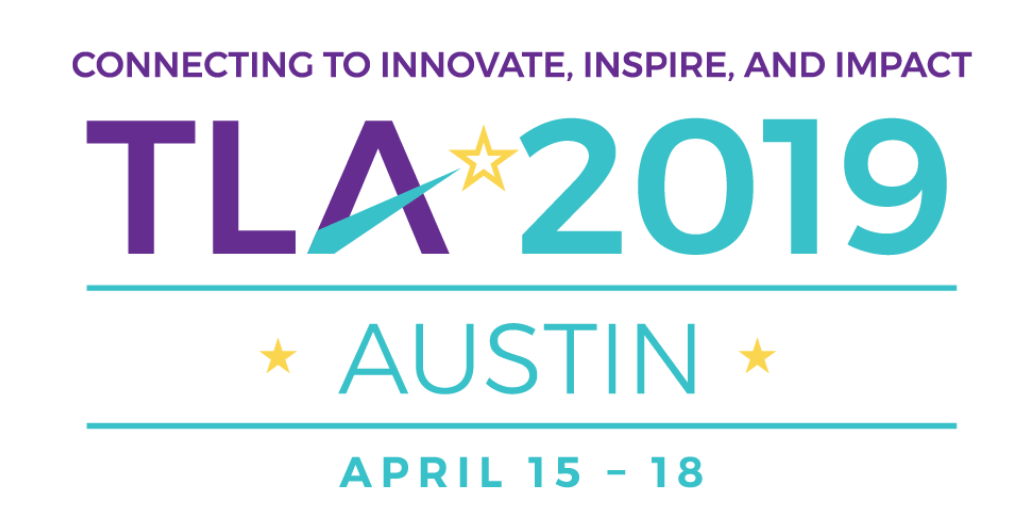 Last week was the Texas Library Association Annual (TLA) Conference in Austin, Texas. This conference is an annual highlight of many librarians across the state! Since so many vendors, publishers, author and illustrators attend, librarians can't help but get excited. Almost immediately following last year's conference, I began gathering program ideas, authors, and presenters for #TXLA19. This year we had over 7,000 conference attendees and exhibitors, so putting on a conference of this size and caliber takes so many people volunteering a lot of time and energy!
The Texas Library Association is made up of four divisions: Public Libraries Division (public librarians), College & University Library Division (academic librarians), Special Libraries Division (special librarians), and the largest division is the Texas Association of School Librarians. This year, TLA was a bit different for me. During 2018-2019 year leading up to this conference, I was the chair of the Texas Association of School Librarians. I devoted a large portion of my life this last year to planning, organizing, and carrying out the many details of this conference and being TASL chair. The TASL chair is over 11 committees, conference planning, and is one of the two AASL affiliate delegates. It has been a huge undertaking, but also a rewarding one. I was honored to be elected to this position and represent the Texas School Librarians over the course of the last year. I traveled to Austin in February and testified before the Texas State Senate Finance Committee, and helped organize efforts that contributed to the addition of school librarians to Senate Bill 3.
Part of my duties of this volunteer position were to be a conference planner, and plan programs for school librarians. I was so pleased to see the TASL programs come together at conference! Seeing all the presenters, authors and illustrators and presiders actually presenting to all the librarians in attendance was the highlight of this experience for me! I had 36 programs in all (in the slides below), including the Letters About Literature & TASL Business Meeting featuring Andrea Beaty, the 39th Annual Bluebonnet Luncheon, two hands on labs, and the Lip Sync Battle as part of the new TLA After Hours programs. I wish I could have gotten to every session, but unfortunately with so many programs, I only got attend a handful. I loved seeing all the tweets and pics from these programs and engaging in conversations with other librarians about their their takeaways from the sessions they attended. As librarians, we can never diminish the value in learning directly from authors and illustrators about their books and their process. This is crucial information to have as we engage on a daily basis with our readers about the books in our libraries. We had so many amazing school librarians and school leaders presenting a huge variety of programs as you can see in their flipgrid videos below.
I want to extend a huge thank you to all the people that presented on behalf of TASL this year at conference! I also want to thank the small army of presiders who volunteered to make sure our presenters felt welcome and were well taken care of!
One of the things I am most proud of is the programs I was able to co-sponsor as TASL Chair. There are many small groups in TLA that only have one program and even that one program they struggle to find funding for. The groups TASL co-sponsored programs with for 2019 include:
Texas State Library & Archives Commission
The Automation & Technology Round Table
Latino Caucus and Round Table
Cataloging & Metadata Round Table
Young Adult Round Table
2019 Program Committee
Children's Round Table
Tejas Star Reading List
Intellectual Freedom Round Table
As TASL Chair, I also presided over and help plan the annual Texas Bluebonnet Award Luncheon (pictured below). I worked with a great number of people from the TLA Office, the TBA Coordinator Sharon Lawler, our TLA President Jennifer LaBoon, the Meal Function Coordinator Mary Jo Humphreys, the Door Prize team, my LAC Co-Chairs Brandi Rosales-Dawson and Kate Delemarter and many others to pull off a luncheon of this size. With nearly 1,000 attendees, this is the largest meal function at conference. With a conference call almost every month for many months, lots of spreadsheets, and some fun activities surrounding the winning book, we pulled off a wonderful experience for attendees, the student representatives, and the winning author, Patricia McCormick. It was a celebration for Sergeant Reckless: The True Story of the Little Horse Who Became A Hero!
One of greatest moments for me from this conference was celebrating the students who wrote letters to authors for the Texas State Library & Archives Commission, Center for the Book program Letters About Literature. This program had sponsorship from Abrams, Perma-Bound, Janway, The Center for the Book, and Junior Library Guild. Rebekah Manley, Coordinator for the Center of the Book and I worked for many months to create and organize this program.
On Tuesday we honored three absolutely amazing students who wrote exceptional letters to authors explaining how the author's book affected them. The Letters About Literature is a reading/writing contest for fourth-12th graders.Tens of thousands of students from across the country enter Letters About Literature each year. State winners receive $100 and a trip to the Texas Library Association Conference. National winners receive $2,000 and travel assistance to Washington D.C. for a special awards ceremony.
Also during this program, we recognized the TASL Award winners. It is always a great experience to recognize our peers for the great work they do for and about school libraries. we awarded five MLIS Scholarship Recipients, our Shirley Igo PTA Collaboration Award, our MVP Award & Honorable Mentions, and the Administrator of the Year Award.
This year, in response to many requests for programming on next step or next level makerspace tools, I created the TASL Maker Playground! I am really proud to have brought a playground experience like those at ISTE to TLA. I brought in some nationally known maker experts and presenters who presented in shifts all day Tuesday and Wednesday of the conference. They presented on a wide range of maker products, and the products were provided by MackinMaker, who also sponsored the playground. The Maker Playground had 4 tables in the Innovation Lab and was located in the Exhibit Hall. Frisco ISD was generous enough to loan me 4 monitors for the presenters to use, and I made signed for each presenter to have on their table as well. You can see the full website with the schedule, links to each presenter, and their Flipgrid videos at http://bit.ly/taslmaker
I always love going down to the Exhibit Hall and visiting with all of our vendor partners and publisher colleagues. Seeing new products and furniture and learning about new platforms is always educational. Then connecting with publishers and the authors and illustrators is fun too! I am a huge fan of MackinVia where I also serve on the board of advocates for the TYSL movement. I had the privilege of presenting in the Mackin booth (pictured below) and share with other librarians all the reasons I love the products and services offered by Mackin. In my high school library, we use MackinVia daily and I used Mackin's new Genrefying service to help me genrefy my school library.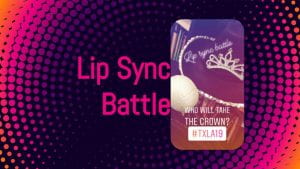 I was so excited to help bring back the Lip Sync Battle as part of the TLA After Hours programming on Monday night from 8-11. This the 3rd time I hosted this panel, and we had some really inspiring authors on the panel this year: Elizabeth Keenan, Maika Moulite, Maritza Moulite, and Nicholas Provenzano. These authors really shined in this nontraditional panel. Each author had the chance to introduce themselves and talk about their book or books, and then we had 2 rounds of performances. This group of authors really brought their A game! The Moulite sisters had choreography for both of their songs and props and audience participation moments. Elizabeth Keenan had amazing costumes to go with her 90's alternative song choices as she moved through the entire room. Nicholas Provenzano got the crowd on their feet with a Miley Cyrus song and appealed to many in the crowd with his Duck Tales performance. This panel was one of my favorite things about TXLA19 and gave me moments I will never forget! Ultimately, the Moulite sisters took the crown and the glitter mics!
This year I was also on a panel with three of my school library friends: James Allen, Sherry Gick, and Heather Lister. This was a panel reboot that we presented in 2017 at ISTE in San Antonio, Hack Your School Library. It was great getting to present with them and learn some truly amazing hacks from our session attendees! Below is a link to our slides and the two padlets filled with great resources for hacking your school library: TXLA19 sesh Padlet & ISTE17 sesh Padlet
New to TLA this year was the CosPlay Parade & Fashion Show brought to you by my dear friend and TLA collaborator Tuan Nguyen. If you made it this far in my blog post, be sure to ask me about the Zombie costume incident of TXLA15. It's a funny story! Anyway, so Tuan tends to get me into costume situations at TLA, and this year was no exception. He kept asking me to be Thor, and after several requests I relented. I am quite glad that I did, because Tuan put together a super fun experience for TLA attendees this year! I wore my Thor costume all during the panel I mentioned above, and my library bestie Sherry Gick wore her Ms. Frizzle costume. We participated in the CosPlay parade and the Fashion Show in the Exhibit Hall on Wednesday afternoon. Certainly a conference experience I will never forget!
Last, but not least of this or any conference, but certainly of TLA, is connecting with friends old and new, and being part of professional conversations about libraries. There are so many different types of librarians and libraries, but this is also an opportunity for me to gather with many school librarians and talk about school libraries in particular. I love the ideas that are shared and the transformations that are inspired! It is truly a week that affords me the best of my profession!