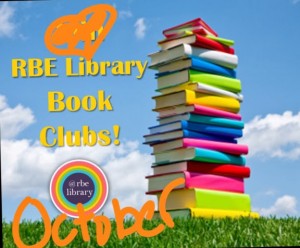 This last week at the RBE Library our 4th and 5th graders finished up our October book clubs.
For the 4th graders, we read Turtle in Paradise by Jennifer L. Holm. This was a wonderful book about Turtle who has to go live with her family in Florida during the great depression. There are some very funny moments with the Diaper Gang, some great connections to the past with Little Orphan Annie and Shirley Temple. The girls who were in this book club had a great time with me reading this book and sharing reader moments!

For the 5ht graders, we read  Darth Paper Strikes Back by Tom Angleberger. Now, the boys who ended up in this book club had all read the book, and all the other Origami Yoda books, so we ended up enjoying moments from all the books. We also signed up on the Origami Yoda website and left some comments there. We deemed our club the RBELibrarySF (SF= Super Folders). I loved that all the boys brought me some origami from the various books that I promptly added to my bulletin board behind the circulation desk.
 October Book Club Participants