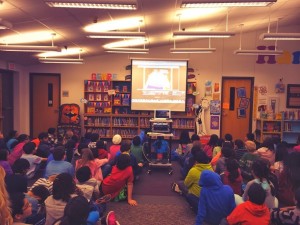 Today at the RBE Library, our 4th graders got to participate in the first ever virtual field trip with the Daughter of the Republic of Texas Library at the Alamo!
The DRT Library  is dedicated to advancing the understanding of the unique history of the Alamo and Texas and of the lives of those who experienced it. Their library is on the grounds of the Alamo in San Antonio. Leslie Stapleton, the DRT Lirbary Director, and Jaime Espensen-Sturges, DRT Library Archivist, led the students through a presentation about papers and artifacts they have there.
There were 8 schools with 761 students on the Google Hangout from the following places:
Cannon Elementary: A GCISD STEM School, Grapevine, Texas
Curtis Elementary, Weatherford, TX
McClure Elementary, McKinney, TX
Coopertown Elementary, Bryn Mawr, PA
C.T. Eddins Elementary, McKinney, TX
Borchardt Elementary, Plano, TX
Cottonwood Creek Elementary, Coppell TX
Phillips Elementary, Frisco, TX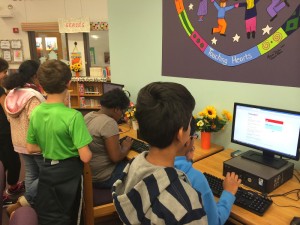 Students were reminded about the difference between Primary and Secondary sources and how the DRT Library differs from our library. They also got to see a hand drawn map by Stephen F. Austin who was also an accomplished map maker. They showed the students a letter from Daniel William Cloud who was an Alamo defender. They was an audible gasp when students saw the petticoats of Susanna Dickinson and her daughter, Angelina Dickinson who is known as  the "Babe of the Alamo. " The students got to see a real photo of Angelina Dickinson as a grown woman too. It was tiny!!! We also got to see one for the original copies of the Texas Declaration of Independence.
During the presentation the students also had the chance to go back to computers in the library and type their questions for the DRT Library using a TodaysMeet backchannel. That link is here: https://todaysmeet.com/alamogho. The transcript of that backchannel can be found here: AlamoGHO TodaysMeet Transcript.
Curtis Elementary in Weatherford, TX  had 2 very special guests a WISD School Board Member, Dave Cowley, and State Board of Education Member, Pat Hardy. You can read the full blog post from Curtis Elementary Library here: http://curtiselementarylibrary.blogspot.com/2014/01/remember-alamo.html
The DRT Library blogged about this event as well: http://drtlibrary.wordpress.com/2014/01/17/new-technology-comes-to-the-arc/  and you can read all about it from their perspective! Also, there is information there about contacting them if you are interested in have an #AlamoGHO for your school.
Our students really enjoyed this amazing learning experience, and we have the DRT Library to thank for this!
You can see more pics from this in the slideshow below and more information about the event here: https://www.smore.com/6mu4-remember-the-alamo
Frisco ISD also posted an article about this event http://www.friscoisd.org/news/inside/inside-frisco-isd/2014/01/21/borchardt-alamo